Welcome to Casa Jubiloso
"Unplug And Get Away From It All!"
Welcome to Casa Jubiloso
"Unplug And Get Away From It All!"
A Private Paradise
The Perfect Vacation Getaway In Sayulita, Mexico
It's all about the view
As just seen last year on HGTV "Mexico Life", Casa Jubiloso sets atop the virgin jungle with one of the finest vistas of the Pacific Ocean. The views from every room are spectacular. You will feel transported to your own private paradise, and tranquility will have you quickly forgetting that you are less than 2 miles from the activity in Sayulita. Casa Jubiloso is located within an ecological preserve that also provides a short walk from the casa to some beautiful semi private beaches. The location is ideal for nature lovers, adventure seekers, and those looking to unplug and get away from it all. It is the perfect romantic setting with ocean breezes throughout the day and sounds of the surf just below. There is a newly added 30 foot outdoor palapa in which to do morning yoga and evening cocktails.
Casa Jubiloso is located on the Riviera Nayarit coastline in Mexico just outside the vibrant surfing town of Sayulita. The town has a wonderful melding of the bohemian and traditional Mexican life. It is also an adventurer's paradise and a great vacation spot for travelers looking to get off the beaten path. Take a look at some of the many activities that can be found a very short distance away. From surfing to scuba diving, canopy tours, golf, fishing charters, jungle hikes, ATV tours and more.  Sayulita is a vibrant community with so much to offer.
Take a look at our 2 spacious suites, accommodating a maximum of 6 guests, check their availability and then feel free to get in touch with us so we can assist you in making your vacation dream in paradise a reality.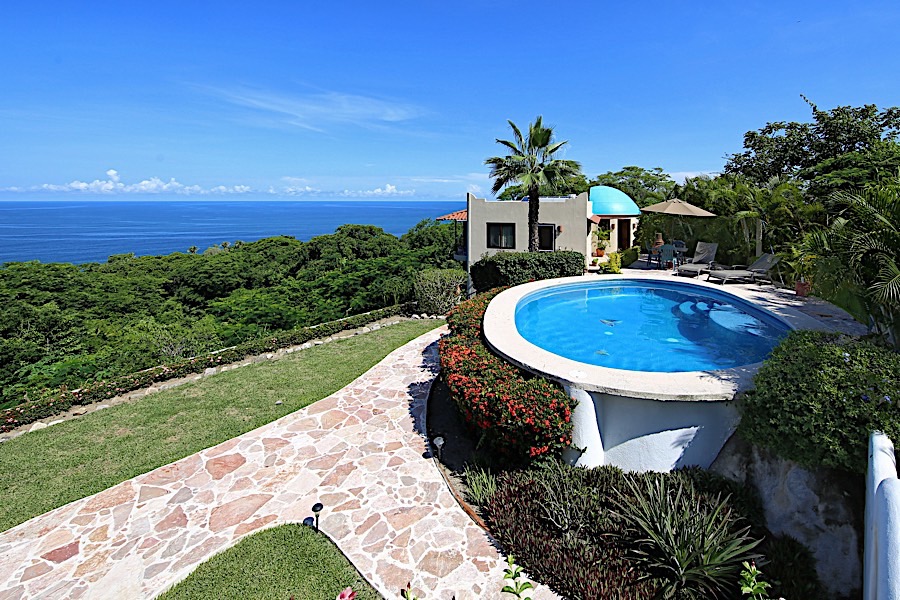 What Our Guests Have To Say
The rental at Casa Jubiloso took our breath away! The pictures don't begin to show how wonderful this place truly is!! We rented the upper suite; one of the loveliest, immaculate and comfortable rentals we have found in our stays in Mexico.
We had such a wonderful time staying at Casa Jubiloso, a perfect home away from home! The views are amazing and we had everything we needed for a perfect vacation! And we loved the beautiful pool too.
If what you are looking for is a tranquil, beautiful, clean, charming oasis a bit off the beaten path, but still plenty close to the hub-bub of downtown Sayulita, this is your place!
Ready to make your escape to Casa Jubiloso?
Get in touch and get on your way to your tranquil vacation.
Our Local Partners
SayulitaLife.com
www.SayulitaLife.com offers Sayulita vacation rentals, business listings, real estate, maps, activities and just about everything else related to Sayulita Mexico